Teambuilding with Remote Mob Programming
Since COVID-19 many work from home. The typical team events are postponed or canceled. With 'The Remote Mob Programming Experience' INNOQ offers a unique form of team event which works working from home and makes a lot of fun!
Teambuilding with Remote Mob Programming
The term "Mob Programming" was defined by Woody Zuill as follows: All the brilliant people working on the same thing, at the same time, in the same space, and on the same computer. Remote Mob Programming uses a virtual zoom room instead of an actual meeting room and a shared screen instead of a shared computer. But regardless of whether it's remote or not, the whole team collaborates intensely.
We've been using this method successfully in customer projects for over two years now. About our experiences we've created a dedicated website, wrote articles, gave talks, and recorded podcasts. But one only gets a sneak peek at what Remote Mob Programming is really like, and how it changes one's views on the classical separation of labor in typical software development teams.
That's why we've developed a format to experience Remote Mob Programming – in the form of a one-day long team event for 5 people. One of our facilitators, Dr. Simon Harrer, Jochen Christ, Martin Huber or Franziska Dessart, will take the role of the product owner whereas the participants form the development team. Together, we'll work on a funny but realistic case study to really experience a "typical" Remote Mob Programming work day. We'll plan together, design together, code together, and even write emails together. But most importantly, we'll learn and laugh together. And at the end of the day, you'll be an even better team as you'll have grown together.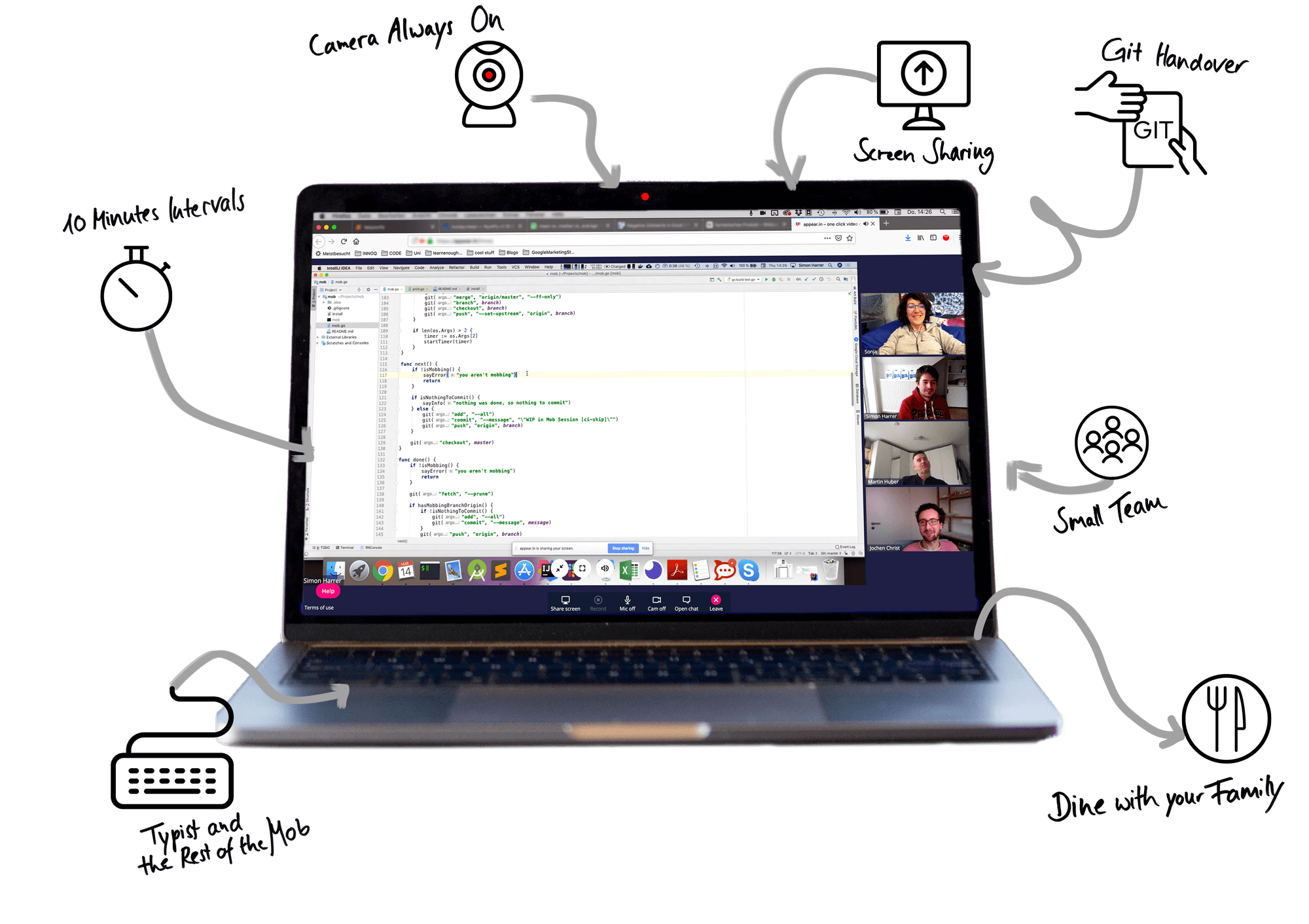 In between, we'll do a lot of short retros to reflect on your ideas and concerns. Tool-wise, we use Zoom for the video conferencing, Miro as a collaborative whiteboard, and mob for the Git Handover. You can use the programming language you like best – no constraints there. We promise: it'll be a lot of fun!
At 'The Remote Mob Programming Experience' I've learned a ton of new stuff and get many very good suggestions. Especially how to teach Remote Mob Programming to others myself. And it was great fun. I strongly recommend it!

Stefan Scheidt

Software Engineer, REWE Digital
In the morning, we'll meet in Zoom to get to know each other. After a little bit of small talk, we'll collect your questions on Remote Mob Programming as well as your expectations on today. Next, we'll make sure the necessary software works for everybody, so we can jump right into the case study. For the actual Remote Mob Programming work, we've allocated most of the day, only sparated by a long lunch break. We'll finish the day by writing the Check-ins and a short feedback round. Have a look at this example schedule:
09:00 Small talk and setup
09:30 bis 12:30 Remote Mob Programming (including breaks)
12:30 bis 13:30 Lunch break (60 min)
13:30 bis 16:30 Remote Mob Programming (including breaks)
16:30 Write Check-in
16:45 Feedback round
17:00 End of business day
Sounds interesting? Book now.
You're interested in experiencing Remote Mob Programming with your team as a team building exercise? It's 2000€ for a team of 5 people. Inquire now.
INNOQ Library
Dr. Simon Harrer
Jochen Christ
Martin Huber