Data Mesh Workshop
INNOQ offers a 1-day workshop on Data Mesh that clarifies the following questions for your company: What is Data Mesh really? Does Data Mesh make sense for us? Are we ready? And how do we start implementing Data Mesh?
Data Mesh is a hot topic, which we have addressed from our perspective with www.datamesh-architecture.com.
Data Mesh is a socio-technical decentralized approach that enables domain teams to perform cross-domain data analysis on their own. It follows the ideas from Domain-driven Design, Product Thinking, Self-contained Systems, and Team Topologies, and extends them to analytical data. Engineering teams can use it to work independently in a data-driven way to make better decisions. But they also get more responsibility, as data products must now be operated in addition to web/mobile applications and APIs. Managed data products enable high quality cross-domain analytics and reporting.
For organizations that align their software development with domain-driven design and microservices or self-contained systems, Data Mesh could be a suitable data strategy.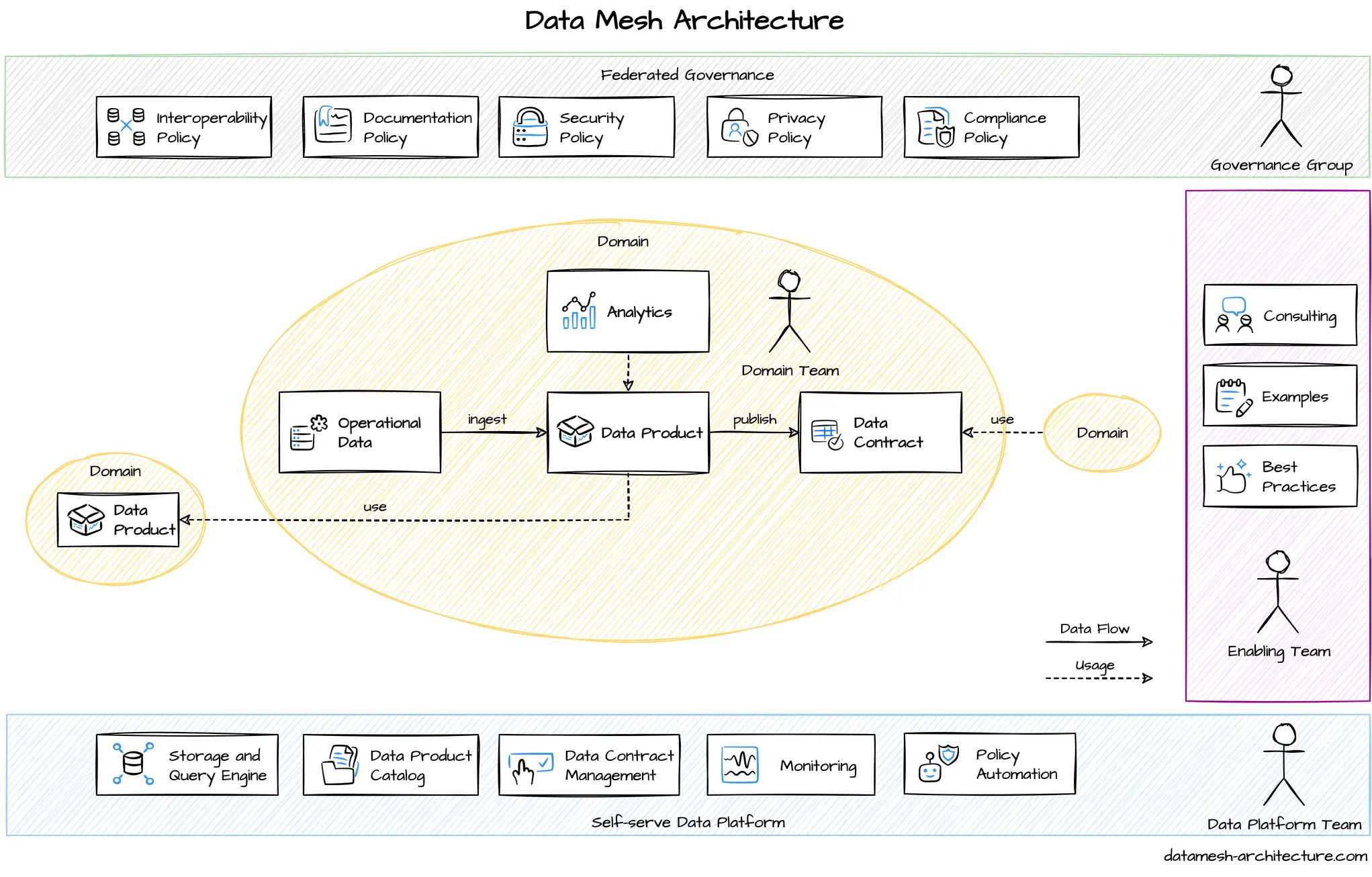 We offer a 1-day workshop that clarifies the central questions for your company:
What is data mesh in essence?
Does data mesh make sense for us? Are we ready?
How can we start to introduce Data Mesh?
The introduction of data mesh is a strategic decision and involves a number of organizational and technical prerequisites and consequences, as well as corresponding opportunities, which will be addressed in the workshop.
The workshop is aimed at decision-makers and should ideally consist of 5 to 8 participants from the following areas:
Head of Data
Head of Software-Engineering
Head of Product
Head of Operations/Cloud
Software Architect
(CIO/CTO)
The workshop will be conducted by two experienced INNOQ consultants.
It was a great workshop thanks to your competent and flexible moderation! I especially liked how we worked through the (technical and organizational) changes caused by (the introduction of) Data Mesh in a very concrete way using the example of our product teams.

Jan Schwake

Senior Product Owner Data & Analytics, Interhyp Group
10:00 Introduction and expectations (30 min).
10:30 What is data mesh really? (90 min)
12:00 Lunch Break (60 min).
13:00 Does Data Mesh make sense for us? Are we ready for it? (90 min)
14:30 Coffee Break (30 min)
15:00 How do we start implementing data mesh? (90 min)
16:30 Open questions and feedback (30 min).
The agenda can be customized to organization-specific focus areas.
Sounds interesting? Book now.