Diese Case Study ist auch auf Deutsch verfügbar
TELIS FINANZ AG is Germany's largest owner-operated independent financial services company. The company sees itself as a partner and companion to customers in the private and commercial sector. Financial planning and security are provided using the unique TELIS-System®, a multi-stage, multiple-award-winning consulting concept. For this purpose, over 1,500 sales representatives work throughout Germany as "management consultants for private households". Particularly for these sensitive topics, personal meetings are very important, but on-site appointments are cost-and-time-intensive and they are not always possible or practical.
The concrete requirement was to develop a simple and affordable solution for remote consulting appointments – with the ability to provide video- and audio communications, text chat, and screen sharing. Ideally, the function would be integrated into the existing client portal, and, of course, it would have to be legally compliant and conform to DSVGO (GDPR). The goal was to bring the people of the sales force close to clients even at a distance, since being able to see the person you are speaking with is also an important psychological factor because it creates the basis for trust and for the provision of a complete range of consulting competency.
As far back as the early 1990s, TELIS FINANZ AG began pushing internal developments to promote digitalization and acted in a very forward-looking manner, including going to INNOQ with the idea of developing remote consulting because they had already worked together successfully in other technological areas.
From the very beginning, the most practical technology seemed to be a WebRTC client based on Twilio. This is because the approximately 1,500 members of the sales force represented a manageable number of users; obviously, no large, complex solution was needed. On this basis, a small, experienced team was set up at INNOQ and developed a proof of concept within two days. As a result, it became clear in just a short time that a small, smart, cost-saving solution really could meet all customer requirements.
WebRTC stands for Web Real-Time Communication. It is an open standard that enables live video transmission directly via the browser. The advantage: customers do not need any extra applications or browser plug-ins for video conferencing, audio transmission, chats or screen sharing.

Twilio is a cloud communication platform and a kind of toolbox for WebRTC and simplifies the development of solutions based on this standard. The service provides convenience functions via Cloud APIs, such as call routing via STUN. Twilio thus works in the background and – to put it simply – establishes the connection to WebRTC.
Thanks to good collaboration with the customer team responsible for the project, most notably with the product owner, Dr. Stefanie Alt, who, as a member of the Managing Board, declared digitalization a top priority, it was possible to make decisions quickly. After just a short time, the prototype was ready and the tool was presented at the annual kick-off meeting. All in all, it took only 18 workdays from proof of concept and creation of the prototype to completion of the production version.
Our IT project teams are agile, working flexibly to achieve results. That is totally consistent with the efficient manner of working we have experienced in all our joint projects with INNOQ. For me, therefore, it was highly gratifying but not at all surprising that we were able to develop and implement remote video consulting so quickly and cost-effectively with support from INNOQ.

Dr. Stefanie Alt

Member of the Managing Board of TELIS FINANZ Vermittlung AG
Here's how the remote solution works: The system is fully integrated into the existing TELIS online system TOS. As soon as a consultant creates an appointment in TOS, the API developed by INNOQ automatically opens a virtual space in the video chat tool. This space is protected technically against unauthorized access; customers nevertheless do not need any special access data. After the consulting appointment, the space, which was created for a single use only, is closed, without leaving behind any personal data or information in the video chat system.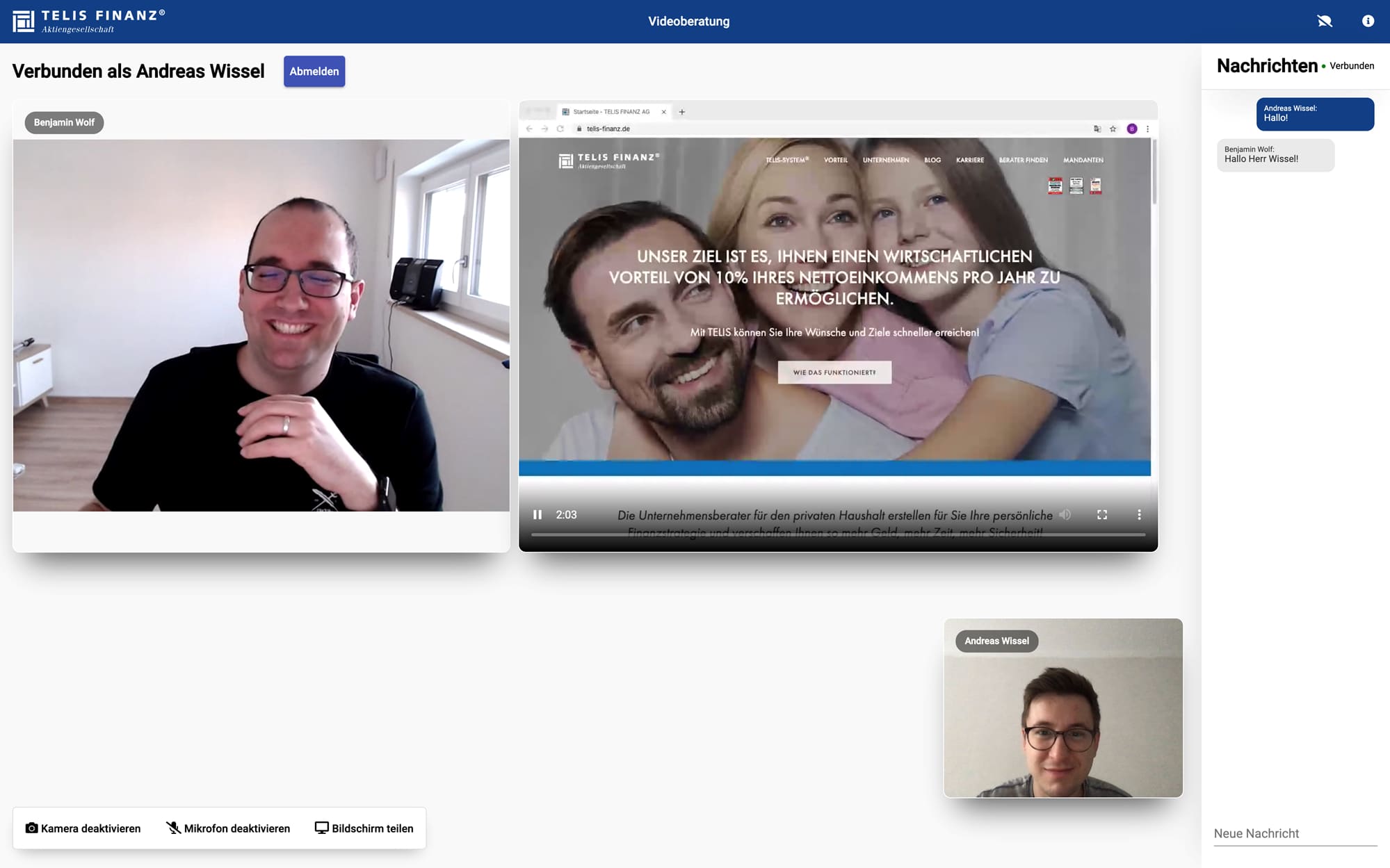 Thanks to the solution it developed, TELIS can also ensure compliance with branding requirements for the design of the user interface – that increases recognition value and engenders trust among customers.
User-centered design
Rapid prototyping
API integration
Implementation of backend and frontend