I altered a part of my ER-Model concerning the implementation of the time-reporting: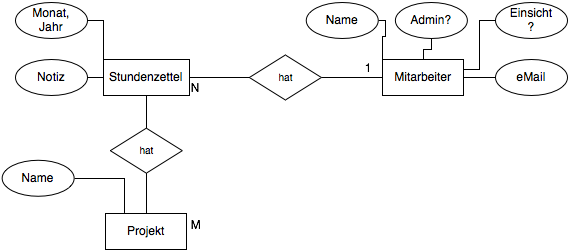 There's no longer an entity called "Arbeitszeit" (working time). All the worked hours and days should now get stored in the extra many-to-many-table that'll be created in between "Stundenzettel" (timesheet) and "Projekt" (project). That table might have the following attributes: StundenzettelID, ProjektID, workingTimeTotal, dailyTimes, notes.
So far I'm not sure how to store all the hours to their corresponding days in dailyTimes (because that's at least about 30 values every month and user), but I might use a plain text field which contains a somehow-delimited list of working-hours (ascending from the 1st to the last day of the month).
The "Mitarbeiter" (co-worker) entity is also the applications entity for storing login- and user-information.
What you see on the latest mockup, is in Rails the update- or new-action/view for the "Stundenzettel"-controller. I think there won't be any implementation of a read- or delete-action for "Stundenzettel" (timesheets).
So, I hope this will work for me…
And yes, next time the ER-Model will be in english, too, that I don't have to bother you (and me) with this language mix. I also code in english, so this makes sense anyway.
[UPDATE]
After talking to Tim and Phillip and considering Stefans Comment, I think this is the right way of modelling the Entity Relationship: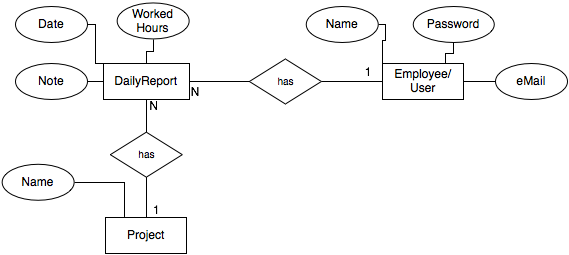 So, in the DailyReport entity there is the attribute Date which is an additional primary key to the ProjectID and the UserID. This way the WorkedHours are stored for every day. So you have a table for every day, employee and project.
The same with notes. This may be useful to describe your tasks on that day, for example. This way I think I'll have to reengineer the UI, 'cause notes do not get stored on a monthly basis. I already have something in mind for that.
[/UPDATE]